As spring is just around the corner, it's time for many of us to switch out our wardrobes for the lighter and brighter pieces. That is unless you are luck enough to have one of these amazing closets below Oh I dream of the day of having a walk in closet. That sounds so heavenly. Currently my guy and I share a standard size closet and boy is that tough! Below these photos check out some of my tips on keeping your closet organized.
Organization Tips
Buy a scarf hanger ( I have this one below)
Use these super slim hangers (similar), I promise they have made a huge difference in how much I can fit in my closet and the velvety material on the hangers keeps your clothes from slipping off. I have bought packs of 50 at Costco and also packs at Ross, TJ Maxx, Marshalls, Home Goods type of discount stores for reasonable prices.
A system to organize your shoes according to the space you have, I use this shoe rack and we also have a shoe rack in our entrance. It's still not enough though! I also have my flip flops and sandals contained in a basket.
A system to organize your bags and purses. Since I am so tight on space, I currently am using my Thirty One large utility bag and within that I hold all my purses, backpacks, and other bags. Nothing fancy but it works for the space I have.
Invest in under the bed storage plastic containers to keep items you don't use often or out of season items out of the way. You can also use these with the space storage bags, which really work to flatten out your items and make things smaller.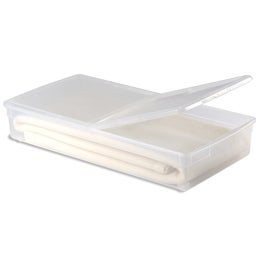 Get some skirt/pant hangers to help save space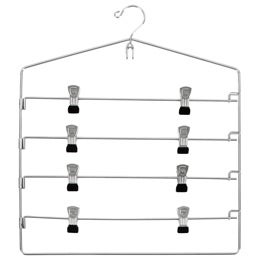 A belt holder will keep all your belts organized and easy to get to
I hope these tips helped you to keep your closet as organized as possible. I have found that every closet is different and you have to figure out what works for you. You will notice many of the beautiful closets you see show a few shirts and a few pants hanging in the closet, but that isn't reality. Most people have many more clothing items then that, so find what works for you and for your closet. I would love to hear your stories and photos on what you do to keep your closet organized.